6.21.2008
Omigosh! This is SO GOOD!!!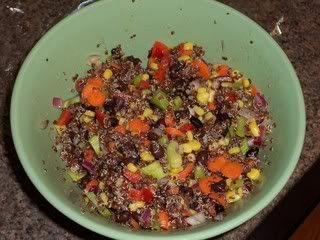 1 c. quinoa
2 1/2 c. water
1/2 c. extra virgin olive oil
3 T. fresh lime juice
1/2 t. cumin
1/4 t. hot pepper sauce (or to taste)
1/4 t. freshly ground black pepper
1 (7 oz) can Niblets whole kernel corn, drained and rinsed
1 (15 oz) can black beans, drained and well rinsed
4 oz baby carrots, thinly sliced on the diagonal
3 ribs celery, thinly sliced on the diagonal
1 lg. red bell pepper, cored and chopped
1/2 med. red onion, chopped
2 cloves garlic, finely minced or put through garlic press
1 T. canned chili peppers, rinsed and well drained

Place quinoa in a fine-mesh strainer and rinse under cold running water, drain. *Note: If you use Ancient Harvest brand quinoa, you don't have to rinse it. Follow the cooking directions instead of the following* Bring water to boil in a medium saucepan, add quinoa. Return to a boil, reduce heat, cover and simmer for 10 minutes. Drain quinoa in strainer and rinse under cold running water. *Note: I just cooked it until all water was absorbed, spread it thinly in a bowl, and cooled it in refrigerator*

In a small bowl, stir together olive oil, lime juice, cumin, hot pepper sauce, and black pepper. Set aside.

To the quinoa, add the black beans, corn (I used frozen corn instead of canned), carrots, celery, bell pepper, onion, garlic, and chili peppers (I didn't use any chili peppers). Pour in olive oil mixture and stir gently until well blended. Cover and refrigerate at least four hours. Before serving, add more olive oil and lime juice if salad has become too dry.