5.16.2008
My first night, after a lengthy flight delay and the last leg of my flight being twice as long as planned--I was a little too disoriented and it was a little too late in the day for a single traveler to do much exploring. I decided that finding dinner and unpacking was going to have to be enough. The B&B owner recommended a soul food place around the corner. It was a small place, but very nice. Again, being slightly disoriented, all I could muster up to order was a po-boy. It was alright... Come to find out later that this was a place well-known in NOLA for soul food, and I probably should have ordered meatloaf (the specialty), or at least fried chicken. Live and learn...

Speaking of learning, apparently "brasserie" is French for "expensive restaurant." The Marigny Brasserie was recommended to me by a nice bartender whose bar I had wobbled into (oh! the blisters. more on that later), looking for a quick burger. Turns out the bar didn't serve food, but the bartender recommended the cafe on the corner that had reasonable prices and where most of the food service employees in the neighborhood went to eat. The Marigny Brasserie: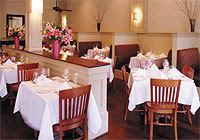 I hobbled over to the cafe and enjoyed a glass of wine at the bar, as the restaurant itself didn't open for another 15 minutes. Once I'm seated, I get to take a look at the menu. I experienced a moment of shock as I realized the menu consisted of about five to six entrees, priced between $25 and $30 each. My server explained that they have a new chef and he's trying to keep things simple.

I have to mention here that I have never ordered an entree above $15 in my life, and certainly never patronized an establishment where the "chef" is mentioned during my course of conversation with the server.

Once I overcame my shock and regained my ability to breathe, I decided "What the hell. I've made a mess of my feet (again, that's another post) and as a result am spending half of my three short days in NOLA camping out in my B&B room." I decided to throw monetary caution to the wind and enjoy the experience of an honest to goodness upscale restaurant. I was pleasantly surprised, and just a little giddy, when my meal arrived. The presentation was straight out of Iron Chef America. And the meal itself. was. divine.

I'm still wondering how to re-create it, but know that I will never attempt such a feat. Monetary caution being thrown to the wind, I also enjoyed a second glass of wine and an after dinner coffee. I have not regretted one dollar I spent at the Marigny Brasserie.

Another thing I learned: I hate seafood gumbo. Especially when I ordered chicken gumbo at THE gumbo restaurant in the French Quarter and the waiter mistakenly brings me seafood gumbo. And double especially when the surprise seafood gumbo is garnished with the claw of a crawfish.